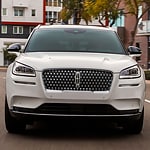 Luxury vehicle aficionados who prefer the benefits that a crossover provides choose the Corsair. Inside and out, the SUV maintains the beauty and excellence for which Lincoln has become known. Lincoln also provides new clients with various options to personalize the vehicle.
Choose a new Corsair in one of 10 different colors. The exterior of the subcompact crossover combines smooth lines, gentle curves and an aerodynamic profile. The long list of unique features that come with the crossover includes the illuminated Lincoln welcome display that appears on the ground by the driver side door when approaching the vehicle. An open door reveals soft overhead interior lighting. The powered side mirrors automatically extend and fold when the vehicle is occupied or exited.
Visit our O.C. Welch Lincoln website online and schedule a test drive in a new Lincoln Corsair. Venture to our physical location and choose your favorite crossover.