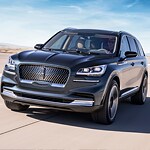 If you appreciate a driving experience that includes luxury and performance, we recommend the Lincoln Aviator at O.C. Welch Lincoln. This model is a popular SUV at our inviting Hardeeville location.
The Lincoln Aviator offers a choice of available powertrains. If you stick with the standard engine, you'll receive a six-cylinder setup with turbocharging that provides above-standard performance. We love its 400-horsepower rating, and we bet you'll enjoy its responsiveness. Uniquely, choosing the available Grand Touring trim adds an electric motor to the equation and boosts the Aviators horsepower to 494.
To combine flexibility with the Aviators hustle, Lincoln includes a range of drive modes. An elegant dial on the three-row SUVs center console lets you select the proper mode for your driving tastes and conditions. When you turn the dial, your Aviator adjusts its shift points, steering responsiveness and suspension settings. If you select the available Air Glide Suspension, your luxury SUV will also modify its ride height to provide optimal experiences and memories.